Podcast: Play in new window | Download | Embed
Subscribe: Apple Podcasts | Android | Google Podcasts | Spotify | RSS | More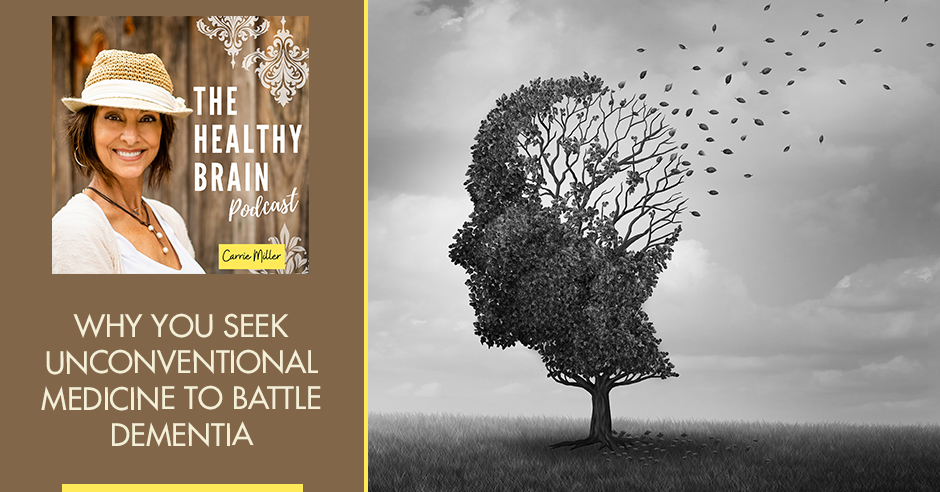 Dementia is a hard battle to fight, not just for the patients but for the family and health care providers, too. However, this becomes harder when misdiagnosis enters the scene, and time, money, and resources have been wasted. Today, in the first episode of the Healthy Brain Podcast, Carrie Miller gets down to the essentials about how you can find the right choices in terms of treating dementia and similar brain diseases. Sharing her own mother's dementia journey, she validates the importance of not immediately accepting diagnosis labels and seeking other valid opinions. She also highlights how unconventional methods by doctors or health practitioners are gaining attention as people turn to them instead of standard dementia or Alzheimer's medication.
—
Listen to the podcast here:
Why You Seek Unconventional Medicine to Battle Dementia
Welcome to the first episode of the Healthy Brain Podcast. I'm your host, Carrie Miller, a nutrition coach, Founder of My Texas Table and a recovering addict of chicken fried steak, mashed potatoes, homemade biscuits, and white gravy, with that additional side of pie. If that's not a recipe for pure Southern, I don't know what is. All kidding aside, I've been researching brain health and following some of the world's top experts in reference to one of the most devastating diseases of our time, and definitely one of the most swept under the rug topics out there. I'm talking about the brain disease, Alzheimer's and other forms of dementia. If you or a loved one had been labeled with dementia of any kind or any other chronic disease for that matter, then you're in the right place, because the purpose here is to bring you hope, a view of optimism.
I want to encourage you to keep your mind open and develop a new mindset to seek all the alternative approaches to brain health that are available to us. I want to give you a toolbox of knowledge that our family didn't have years ago, so you can make the best decisions for you and your loved ones. This whole journey of starting the Healthy Brain Podcast is personal for me. I have multiple friends and family members who've been diagnosed with some form of dementia, and that includes my own mama. She was diagnosed years ago. Maybe you can relate to this story.
Years ago, mom was heading to the nail salon, to something she looked forward to every couple of weeks to get those shiny red nails fixed. She was traveling down the mountain in her little red Mustang car. She loved driving that car with the top down. She was proud of it because daddy had bought her that car. He was always spoiling her. When mama started down the mountain towards the salon, she took a few wrong turns and she got lost. She pulled over the side of the road and she called daddy and told him, "Honey." She always called him honey. She said, "I'm lost. I can't find the nail salon." Daddy asked her, "Where are you, Charlotte?" She said, "I don't know." She had no clue. Daddy got in the car and he drove all around the mountain. He finally found her.
The next day, dad did what most of us would do and he called the doctor and scheduled an appointment. The doctor referred him to a neurologist. When they went to the neurologist, after about two hours of testing, daddy was told that mama failed a verbal test. They're in the office. She was immediately diagnosed with dementia of some kind and prescribed the dementia patch, like everybody else back then. It seemed like that was the protocol, "You've got memory problems, then you must have Alzheimer's and some form of dementia. Let's give you a drug." Mama and daddy were told that the patch would help slow down the progression of her dementia and they trusted their doctor like we all do.
Let's fast forward, mama's health was not good. The doctor had diagnosed her in the later stages of Alzheimer's. The neurologist told Daddy, "She'll fade away." Personally, I didn't think that my mama was going to die. I knew God was telling me in my heart, "She's not done yet." The reason why I believed that was because I looked at the whole picture. Mama was prescribed seventeen drugs and those drugs were killing her. There was no doubt in my mind that they were poisoning her body and brain.
Let's stop right here and talk about this. How would you feel if you were taking seventeen prescription medications per day? Maybe you're taking more than that. Have you ever thought about the negative interactions of a pile of pills? I want to encourage you to ask a pharmacist, they know all about drugs and how they interact. What about all the side effects that come from each pill? One drug leading to another and another, and before you know it, you look up and you're on 5, 10, maybe even 15, 20 drugs. A lot of you know exactly what I'm talking about. You or a loved one are on so much medication you can hardly function. Besides that, you've got all kinds of aches and pains, it won't go away. You might be labeled with a chronic disease or two. When you're talking about prescription drugs, it can be a vicious cycle and dangerous one of that.
Getting back to mama's story. It's not rocket science. I knew we needed to oversee mom's medication list. For the life of me, I didn't understand why none of her doctors would even question a list that long. It doesn't make sense to me. All the side effects from the drugs counteracting one another, giving her symptoms that were unstable for her. One day she'd be able to get out of bed and the next she'd be walking around in a combative state. She even failed several times, which is the norm when you're on so much medication. Ask a geriatric doctor, they see it on the daily. Because mama had lost her appetite, she had lost almost 30 pounds. At one point, the doctors wanted to send her to a psychiatric ward. Can you imagine? There was one thing for certain. My mama was having crazy, unruly episodes because of being on too much medication. Stick with me here. This story is not over.
After daddy decided to move mama in a home closer to us, we made sure we attack that prescription drug list immediately. The medical professionals, who were in charge of mom at the home, understood our concerns about the meds and they weaned her off all but one. Lo and behold, mama started to walk again. In fact, walking quite fast might I add. She was feeding herself, eating like a horse, dressing herself. She was participating in ball activities, even communicating on some level.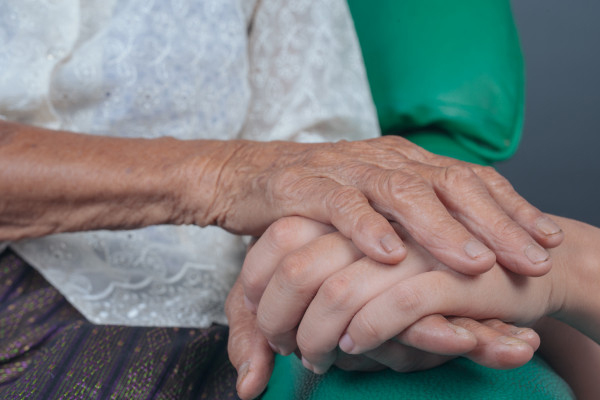 The home she lives in had tweaked her diet to low carb and low sugar, adding in more greens, green leafy vegetables. Even daddy got on board. Instead of giving her Whataburger shakes almost every day, he spoils her with a healthy shake with almond milk, cacao powder, plant-based protein, a banana and a couple of drops of stevia. Dad loves to spoil mama, always has. The love they've had over the years has been an amazing testimony to many people. The love he continues to give to my mama, almost every day, is honoring. It's a perfect picture of unconditional love.
Getting back to my mama, she was even remembering the route to the kitchen to ask the chef for a cookie. If you didn't catch that, that's a short-term memory, something that's supposed to fade if you have Alzheimer's. It was amazing to see the transformation. She was better. Think about that. Why do you think she'd be better? You don't get better with a brain disease, Alzheimer's. In fact, what are the odds that if mama had Alzheimer's, she'd still be walking in her so-called late stages?
The visiting doctor and her memory care asked me a question, "Do you believe your mama has Alzheimer's?" I said, "No, I don't." He said, "I don't either." I am not a doctor or a nurse but I started thinking, "Could it have been that my mama had been misdiagnosed?" I found out that in fourteen years, mama had not one single brain scan of any kind and I questioned, "Why not?" Were the doctors guessing at the diagnosis after you've got lost going to a nail salon? Not one doctor ran any test for thyroid, imbalance of hormones. No testing of allergies or toxicities. They didn't even check any micronutrient levels, and the list goes on and on when it comes to the contributing factors of Alzheimer's and any other chronic disease for that matter.
Dr. Dale Bredesen, a brain scientist and the author of The End of Alzheimer's says that there are 36 or more contributing factors to cognitive decline, but not one was even considered to find the root cause of my mama's diagnosis. She only had a verbal test, unbelievable. My mama's doctor gave my parents no hope and they sent them home with a diagnosis of an incurable disease and one useless drug. There was not even a discussion of diet, exercise or any lifestyle change at all. Is this you or your loved one?
The story of my mama's journey is a wakeup call, not only to you and I, but to the medical professionals who are diagnosing with a one-size-fits-all protocol. The Big Pharma and marketing companies will continue to try and fool us, but we are smarter than this. You've got to look at the facts. We have a failure of our healthcare system rooted in a number of factors, which include bias funding of research, bias reporting and medical journals, some bias reporting in the media and commercial conflicts of interest to name a few.
An analysis from the US federal government actuary said that Americans spent $3.65 trillion on healthcare in 2018. The third most common cause of death after heart disease and cancer is prescription drugs. Why do doctors continue to prescribe drugs that provide little to no positive long-term effects for health? Your mind and body were uniquely created by God. Let me be clear. There is no cookie-cutter magic pill anywhere that's going to address the root cause of your symptom long-term.
I've got a couple of questions for you. Have you all seen the huge waves of disease in this country in the past few years? How about the assisted living and memory care homes popping up all over the city? Have you seen the hundreds of pharmaceutical drug commercials on TV and in magazine ads? Are you all listening closely to that long list of harmful side effects? It makes me sick to see the games they are playing with real lives. I'm sure you're aware of it, but the pharmaceutical companies pay a pretty penny to marketing companies for those ads that sell us lock, stock and barrel. As Big Pharma continues to grow larger and larger, we've gotten sicker and sicker. In some ways, healthcare has involved into sick care, but let me be clear, there are instances where we might need surgery and we might need a short-term drug, but it shouldn't be our way of life to live with an overdose of drugs. Are you all with me?
Here are some staggering statistics. According to the Alzheimer's Association, around 50 million worldwide had been labeled with some form of dementia, 5.8 million of them being Americans. Someone in the world develops dementia every three seconds. For women, the chance of developing Alzheimer's is greater than developing breast cancer. More people die from Alzheimer's and other forms of dementia than breast cancer and prostate cancer combined. In Texas alone, there are approximately 390,000 people, 65 and older, who have been diagnosed with Alzheimer's and by 2030, 75 million people around the world would be stamped with the Alzheimer's label. It is unbelievable.
Keep your mind open and develop a new mindset to seek all the alternative approaches to brain health that are available today.
Click To Tweet
Let me give you one other stat. Did you know that approximately $800 billion had been spent by the pharmaceutical companies on research to find a drug to cure and slow down the progression of the disease? They have failed miserably. Those are some hard stats to swallow. Here on the Healthy Brain Podcast, we get down to the nitty-gritty about your innate ability to find the right choices for you. The responsibility of making the choices of what you feed your mind and body is huge. I'm here to shine a big light on brain health and to get you all to think of the possibility of life without the hundred-plus types of dementias out there. If we're going to beat this disease, then let's get over the stigma of cognitive decline. Start having some real conversations about this topic and start challenging the leaders of America. It's time we step up to the plate. I know it's a different way of thinking.
Let's take a minute. I want you to stop what you're doing and close your eyes and think about this, visualize. You're seated in a chair in a doctor's office, face-to-face with a neurologist. He tells you that he's got some news for you, that your test results showed that you have Alzheimer's or another form of dementia. You immediately pause. Where does your mind go? You've been given the death sentence and your head starts to spin. You're overwhelmed and the tears start flowing. Anxiety sets in and you feel that you're at the mercy of the doctor and he says to you, "The best treatment I have for you is a dementia prescription drug and we'll start it right away."
Excuse me while I intervene. Instead of accepting that diagnosis label, I want to encourage you to look at your doctor in the eye and say, "I accept that I'm having some cognitive decline, but I'm going to choose life and fight for my brain. I'd like to talk about the other alternative so that I can start to feel better for my kids, my grandkids and even my great-grandkids." If your doctor looks at you with a blank face and he doesn't have any alternatives, then flee. If you've carefully chosen an unconventional doctor, who has a great track record, who's willing to provide extensive testing to find the root cause of your cognitive impairment, then stick with that doctor. You're on the right track.
For years of unconventional methods by doctors, PAs, nurses, wellness centers out there, nutritionists, trainers, health coaches, and even farmers, have been drastically changing the landscape with the food as medicine approach right here in the US for good. These professionals come from all different backgrounds, but their message is the same. They say, "No to the conventional protocols. Yes to the alternative approaches to health and wellness." The doctors choose to use extensive testing to find the root causes, healing the gut-brain axis, encouraging food prescriptions and lifestyle changes as a starting point in their programs to reverse cognitive decline. These doctors are getting back to the root causes of chronic diseases such as Alzheimer's and addressing those causes. They don't issue Band-Aids for temporary relief. Not these doctors. It's a total paradigm shift in our mindset, one that requires you to think outside of the box. They also believe in an incredible defense mechanism that we all have at our fingertips and that is prevention.
Thank God we have such a thing called choice. When it comes to life or death, we have the right to express our concerns and question the status quo concerning our health in this great country we live in, it's called communicating with your doctor. It should be acceptable in modern medicine. My friend, you and only you, are ultimately responsible for making the decision to take control of your own health. Choose wisely who you bring into your world. Let me tell you what we advocate for here on the Healthy Brain Podcast, that would be nutritious clean food, adequate sleep, physical activity. Start moving again. Get out of the country. Breathe fresh air again. Of course, many other lifestyle factors go into play so that you can optimize your brain for physical stability, mental clarity, and longevity. I believe wholeheartedly in alternative medicine, pinpointing why you feel the way you do.
I've experienced suffering not only with family and friends but with my personal struggles. I've had brain fog, anxiety and depression when I was in the midst of a divorce. I was trying to adapt to a single mama household and run a full-time ceramic business. Life is hard. I also struggled with an eating disorder as a fashion model in my twenties. I'm not proud of it, but it's a part of the story. I wish I would have had the knowledge then that I do now so that I understood the true meaning of healthy. We do the best we can with the information we're given, but let me tell you, ignorance is not an excuse.
I grew up with the influence of a sugar-filled, high carb, that finger-licking, delicious Southern diet, but I realized after researching over all these years, at my age, it's never too late to start protecting your brain. Luckily, we've got plenty of choices if we're willing to keep our minds open to the out-of-the-box possibilities available to us. Walk with me here. I'm the one who's going to fight tooth and nail for you and your loved one to give you the resources you need so that you'll have the power to make educated decisions for healthier brain and body.
Do you know your options when you receive a dementia diagnosis? There's science-based, evidence-based information out there to help with your decision-making. How about the doctors who practice unconventional medicine? Do you know where to find the brain healthy books and articles in scientific journals, studies and the research out there? When it comes to prevention, are you aware of what healthy cooking looks like at home? What to order when you're in a restaurant? Do you know what physical activities best suits you for your own lifestyle? There's so much we're going to be covering on the Healthy Brain Podcast.
Are you ready to join this massive movement, the community of believers here on the Healthy Brain Podcast to fight for their brains? Stay tuned to all the guests' interviews for alternative ways to help support you and your loved ones towards a healthy brain. We'll continue to talk from the facts and know-how to make educated decisions about your health. You'll learn incredible stories about real people who've transformed their lives with clean food and healthy lifestyle choices. We'll be uncovering the real truth that many shy away from to keep peace per se.
Here on the Healthy Brain Podcast, we will never sugarcoat anything. I guarantee you that. Please let me hear from you. I want to know what concerns you have and any questions or topics you'd like to discuss. Please email me at Carrie@TheHealthyBrainPodcast.com. I'm here to equip you mentally, physically and spiritually so that you can have the healthiest brain to enjoy a life full of joy and laughter with family and friends. I am thrilled you're here and I look forward to bringing you only the best to achieve your healthiest brain ever.
Important Links:
Love the show?

Subscribe, rate, review, and share!
Join The Healthy Brain Podcast Community today: