Podcast: Play in new window | Download | Embed
Subscribe: Apple Podcasts | Android | Google Podcasts | Spotify | RSS | More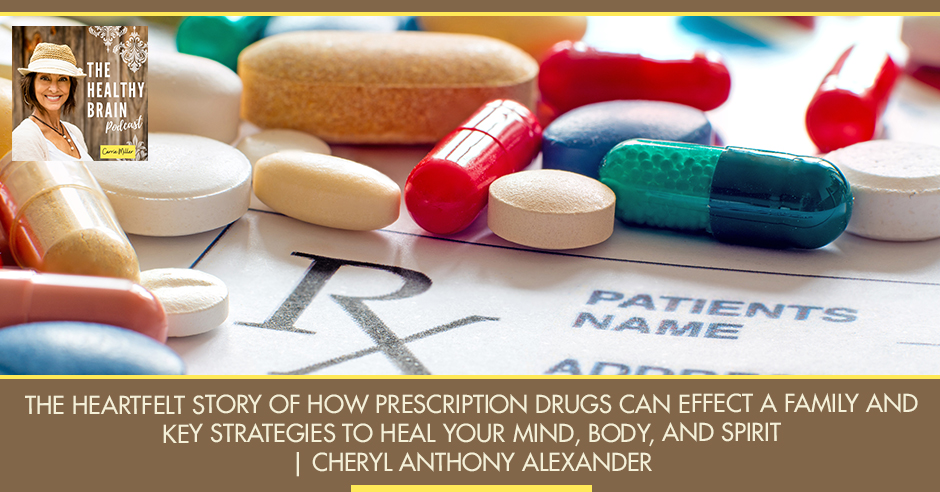 Prescription drugs may have helped millions live illness-free lives, but they have also destroyed many families. This episode opens our eyes to the reality of how misprescription or over-prescription of medication can deplete years of supposedly good family time. Today, Carrie Miller interviews Cheryl Anthony Alexander, the owner of ROAM Yoga Retreats, about her own mother's suffering from stress and opioid addiction. Cheryl notes how pharmaceutical companies should be held reliable for many similar cases. She also shares how she resets her mind, body, and spirit through yoga. Start managing your overall health and living a well-balanced life as you discover some gems from today's show.
—
Listen to the podcast here:
The Heartfelt Story Of How Prescription Drugs Can Effect A Family And Key Strategies To Heal Your Mind, Body, And Spirit | Cheryl Anthony Alexander
I'm excited about our guest interview. I'm talking to someone who's been in the yoga industry for decades. She's the owner of ROAM Yoga Retreats and certified in a variety of yoga styles including a Pilates-based high-intensity interval training that she teaches to other fitness professionals. Please welcome to the Healthy Brain Podcast, my good friend, Cheryl Anthony Alexander. How are you?
I'm good.
I'm glad to have you on the show. You are precious to me.
I am thrilled to be here and you, your whole family and your mission are precious and important to me forever and ever.
Thank you so much. We go way back. Childhood days, right?
Yes.
Your daddy was the pastor at the First Baptist Church in Port Neches, Texas. Let's give a little shout-out to Brother Tony and all our friends out in Port Neches, Texas. Cheryl, let's start out with you sharing with our readers a little bit about your upbringing.
My upbringing is rather unique. I was born into a Baptist minister's family. My daddy was always, for my whole life, the pastor of the biggest church in town, no matter where we lived. My mom had a unique role as the pastor's wife. If you are anywhere close to being familiar with that role and lifestyle then you know that it comes with a lot of pressure and a lot of expectation. That trickles down not only from the pulpit but to the pastor's wife whose life is probably the hardest life of anyone I know, and into the lives of the children. In fact, there's a whole cultural level of a PK. You've heard of the term PK, preacher's kid or pastor's kid, and I'm one of those.
My mother took her role seriously and my father was successful at what he did. He was a shepherd to a flock of, most of the time, a few thousand people and taking care of other people's families and other people's problems was his job. My mom's role was to make sure that our family was representative of my father's job. I knew from a young age that every single thing we did was a reflection on my father and our church. Beyond that, what people thought of Jesus Christ and of God, we were like ripples in a big pond that ultimately led to heaven. That's what my upbringing was like. It's a lot.
We have talked in length before about our moms on several occasions and some of the similarities that they've had. Most of my readers know about the doctors placing my mom on seventeen prescription drugs. Can you talk to us a little bit about your mom and what she endured over the years?
The pressures of being a pastor's wife are profound and there's a lot of research that's been done on that particular role in society. I can't speak professionally to those numbers but I know what happened in our family. My mom had to internalize a lot. No matter what she was feeling, she had to think of what was going on in the larger realm beyond our family to the church family. That manifested in profound ways in her both mental, emotional, and physical body. I'm sure that most of your readers realize that the ailments of the physical body typically begin as a result of life experiences, emotions, and stress that we don't let go of. The things that we hold on to manifest in the physical body.
That is what happened in my mom's life. She felt the pressures of being a pastor's wife. In those days, people didn't go to see a therapist or talk about the things that bother us or the way to stay on like we do these days. It wasn't done. She internalized all that and as a result, from my earliest memories, I remember that my mom had bad migraine headaches. The migraines would be debilitating. I can remember if my mom got a bad headache, we knew that we had to behave in a certain way and maybe she might be in bed for three days. The lights had to be out. You couldn't even sit on the bed.
She would feel that energy if you were moving around. It affected our whole family. What I didn't realize then that I began to realize later was that the doctors were prescribing her some strong medications. I know the names of some of them. I don't know the names of all of them. What I do know now is that they were opioids. That changed our family and it changed the course of my mother's life. When I was young, I didn't realize anything but she had a headache. She was going to take medicine and she would probably be inaccessible for maybe 2, 3 or 4 days at a time.
Did you know what opioids are?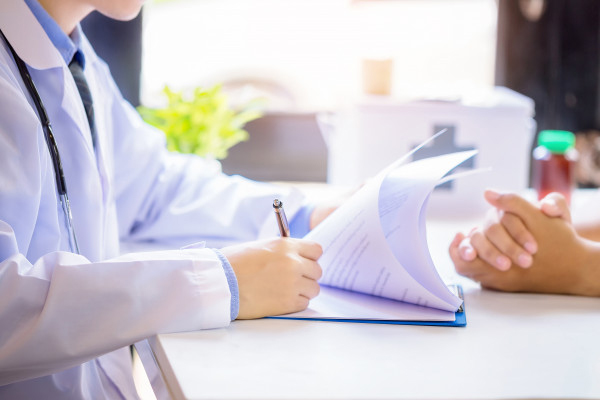 No. I didn't know anything except that she had a headache and she had to take her medicine.
You didn't know that they were addictive.
No, and I don't know that she knew.
This went on for how many years?
Until she died. She died in 2013, from the time I have the earliest memories. Maybe her headaches were not only a result of the stresses of her life. She loved her role as the pastor's wife. She thrived in that role and people respected her and loved her dearly. I don't want to say that the stresses of her life as a pastor's wife were too much. They weren't. She loved that part of her life. A lot of it maybe had to do with her genetics and maybe drugs that she was given during her pregnancy. I know that she took DES, which was a drug that they gave women back in the '60s and '70s, who were threatening to miscarry. That drug not only affected the women who ingested it but it also affected the reproductive systems of the offspring. There are a variety of reasons why she began having migraines but I know that what the doctors gave her for the migraine headaches was long-lasting and had a fatal effect.
Cheryl, did you realize what was going on with your mom and what it was leading to?
As a kid, no. Truthfully, not until after my mom's passing in 2013, when I was 50 years old. I didn't understand that opioids had control of my mom's life and the life of my family for all these years. I saw a commercial on TV where a young female had been addicted to opioids. She had been convicted and come to a realization of what was happening to her life and wanted to change it. She allowed a documentary team to videotape her coming off the opioids. In other words, her withdrawal. They played that video in Times Square on the big screen. They played snips of it as a commercial to alert the public as a public service announcement about the opioid crisis. I saw this young girl hunched over a toilet vomiting and I realized that's what was happening to my mom.
My mom wasn't suffering those symptoms because she was having a migraine. My mom was suffering those symptoms because she was coming off her prescription medications that the doctors had given her. My dad and what my sister and I understood as well, she would not be what she termed until she ingested some more opioids or continued to be severely ill and in unimaginable pain. I saw what my mom went through going through withdrawal. My dad and sister saw it. It affected all of us for days upon days. Not only would she be confined to the bed out of commission because she was drugged and going through withdrawal, it was a vicious cycle.
I remember several times where she went into the hospital and would go through assisted withdrawal. Eventually, she would get another prescription from somebody. That's when I knew what had happened to my mom and her life. She was poisoned and her internal organs quit functioning because they were completely paralyzed by the drugs that she has been addicted to for years, for as long as I can remember. Some people might judge us from the outside and say that my father facilitated her illness but in my father's eyes, he didn't want my mom to be in pain. He was doing what he thought the doctors were prescribing.
I don't think either one of them and I know for certain because both my parents' hearts were the heart of the Heavenly Father. Both my parents' deepest desire was to reflect Christ on this Earth. I know that neither of them would have made the choice to foster addiction or prolong addiction. I honestly believe that they did what they felt like the doctors were leading them to do. It's all too common and it is an epidemic in our country. Your family has experienced the effects of overprescription. My family, who from the outside, everyone probably thought we were to be envied. You can't judge any family. You can't judge any person. Everybody is susceptible to this crisis and that's exactly what it is.
It's a huge crisis of overprescribed medications.
That's the whole point and that's what we're talking about.
Almost half of the US adults over the age of 65 are on five or more medications. I was reading articles in October 2019 of The New York Times about a doctor who prescribed 500,000 doses of opioids in two years and was sentenced to 40 years in prison. The May 2019 article from the United States Department of Justice reads two North Texas doctors and one nurse sent to prison for illegal distribution of opiates. The list goes on. Since 1999, more than 700,000 people in the US have died of drug overdoses and mostly driven by an increase in opioid-related deaths. What kind of change would you like to see in your lifetime in reference to the opioid crisis?
First of all, charging doctors with prescribing the medications is like arresting the street dealers who peddle marijuana. McKesson Pharmaceuticals was convicted of over-distribution of opioids. The FDA charged them and they were convicted. They were fined $3.5 million, which is a joke. It's one-day worth of sales to McKesson pharmaceuticals. That's nothing to a pharmaceutical company. What I'd like to see happen, in addition to tighter controls on how the drugs are prescribed, which can hold the doctors accountable for who gets the drugs. You should have to jump through hoops to get an opioid prescribed. That's where we can count on the doctors and hold the doctors accountable. You should have to go through a lot to even get your hands on an opioid.
The ailments of the physical body typically begin as a result of life experiences, emotions, and stress that we don't let go of.
Click To Tweet
If you want to make a dent, you need to go after the CEO of McKesson Pharmaceuticals. He knows on a daily basis how much money is coming in and where it's coming from. If there are twenty times more opioids going to one region or one town in the Appalachian Mountains, 3, 4, 10 times the population of that town, that's a big red flag. You don't need a CEO to determine that there's something going on with the drugs being distributed. That tiny little place when there are not even enough people there to absorb that amount of drug. It's insane. The CEO knows where the drugs are going, how much of the drugs are going to that place, what the population is of that place, and who the doctors are in that place. If you want to hold someone accountable, put the CEO of McKesson Pharmaceuticals in jail for 40 years, not the doctor.
Let's talk about yoga and the role it's played in healing your mind, body, and spirit. Let's face it, we could all use a little help in all three of those areas.
I discovered yoga in 1999. If you knew me before 1999, you know that I was a hot mess and completely absorbed with the external world feeding all of my external senses. I didn't understand the mind, body, and spirit. Even though I was raised in a Christian home, it didn't come together for me until I found yoga. I tell people all the time, "My path to God is through Jesus Christ and through yoga because, in both of those arenas, my spirit comes alive." For many years, my spirit was dead inside my body even though I was raised in a Christian home. When I found yoga and began to discover my breath, which is the Holy Spirit inside of me, that's when my spirit reignited. I woke up. I was awakened and found my way back to God.
That's how important it is to me. My yoga practice connects me to God like Jesus Christ. It's as important to me. I find God through the power of my breath, through my movement and moving my breath through my body in my yoga practice. That's the importance that it serves in my life. For any yoga practitioner and anybody who's experienced probably even one yoga class, you immediately become aware of your breath inside your skin. The whole purpose of yoga is to enlarge the physical body because the Holy Spirit inside the skin and temple of the human body brings a life. There is no life without the spirit and the breath inside the body.
Aside from yoga, how do you maintain the spine?
You maintain the quality of your spine by a variety of methods. Breathing exercise is one, meditation is another and nutrition. In order to heal the body, there are specific requirements. Circulation, respiration, which is what we've talked about with the yoga you get circulation and respiration, your blood moves and your breath moves. You need relaxation which you get from getting rest and meditating, resting your mind, reducing stress and then nutrition, the fourth element to healing yourself. Without medication, but self-healing, those four elements are essential and required. You cannot heal your own body. You have to have circulation, respiration, relaxation and nutrition.
Give us an example of what you might eat.
I have a great metabolism because I do my yoga. My yoga keeps my body rhythms moving effectively. Carrie, you know it. We eat together a lot. I don't deny myself any of life's pleasures. I enjoy the palette. The key and the secret is a balance of those four things that I told you. I move my body. I rest my body. I do breathing exercises and I eat truthfully a balanced diet. I don't deny myself any food. As long as I'm moving, active and making wise choices about my food, then I feel like a balanced diet is the best choice. For somebody who wants tips, make sure your plate has a lot of color on it. You want something from every food group every day. I eat fats, vegetables, proteins, and grains every single day. I do favor a vegetarian diet because that's what works for my body. I avoid meat because it's hard for my body to process and digest. I don't eat meat. I do eat seafood because seafood is palatable. I can digest it easily. I do incorporate smoothies and juices. I make my own smoothies.
My favorite is to combine about 1.5 to 2 cups of greens and you can choose whatever greens you like and then a half of a pear or an apple for some sweetness and some fruit juice. Also, half of an avocado, which is great for your skin and your nervous system, four tablespoons of fresh lemon juice, a squeezer to have some local honey, a couple of tablespoons of some flax seed, chia seed or sesame seed. Maybe 1 cup of water and a half cup of ice, if you prefer to add some dairy or some almond milk. I don't like that. I just like to use the water and then I do a quarter teaspoon of Guar gum. I'm grounded on a Mediterranean diet like olives, lemons, artichokes, olive oils, cheeses, pita bread, which has no fat and no sugar.
Cheryl is in great shape. I don't even question her diet, not one iota. She's one beautiful woman inside and out. Cheryl, being raised by Pastor, you incorporate scripture into your practice. I'm curious, what's your favorite scripture that speaks to you deeply?
It's hard for me to pick a favorite but I was inspired by your favorite. You share your favorite first and then I'm going to say why I decided to expand on your faith.
Philippians 4:6-7 because I tend to be such a worrier sometimes. Being a mom of three, of course, my kids are adults and I still worry about them. It's, "Don't worry about anything. Instead, pray about everything. Tell God your needs and don't forget to thank him for His answers."
What I want to share is that the entire chapter of the Bible, Philippians 4, is an exhortation to my mission as a yoga teacher. I'm going to share the scriptures from that chapter that are meaningful to me. The first verse Philippians 4 says, "Therefore, my brothers and sisters, you whom I love and long for, my joy and my crown, stand firm in the Lord in this way, dear friends. Rejoice in the Lord always. I will say it again, rejoice. Let your gentleness be evident to all." Verse 8, "Finally, brothers and sisters, whatever is true, whatever is noble, whatever is right, whatever is pure, whatever is lovely, whatever is admirable, if anything is excellent or praiseworthy, think about such things. Whatever you have learned or received or heard from me or seen in me, put it into practice and the God of peace be with you. Amen."
Cheryl, thank you so much for being here. I appreciate your time and sharing your knowledge with us. It's been a blast hanging out with you. Thank you for sharing your story, family story and opening up the way you did. It's precious to many people. I'm sure you inspire a lot of people and touch a lot of people's lives. I'm looking forward to traveling to Hilton Head to hang out with you at the beach. You're going to be leaving out soon?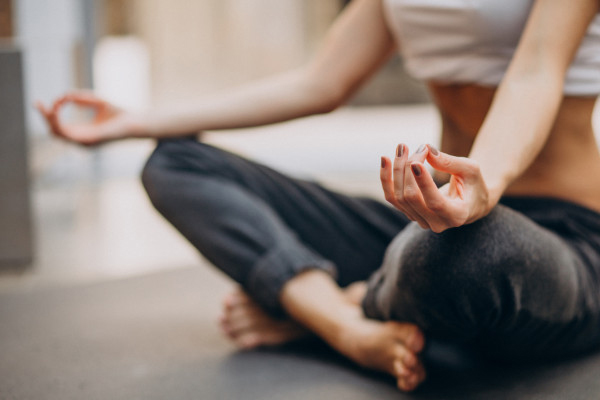 Yes. I'm going to be embarking on a teaching tour around the United States. Follow me on Instagram @CheAlexander or on Facebook, Cheryl Anthony Alexander. Watch my travels and see the lives of the people that I engage with. It's going to be profound and amazing, and I'm grateful.
We are sure going to miss you here in Texas. I'm going to miss my time for little lunches but I'll come out there.
I know you will.
I know you'll continue to change the lives of many and spread joy wherever you go. You're precious to me.
The same. Love you.
Love you, too. Thank you again for being a guest on the Healthy Brain Podcast.
Thank you for having me.
Important Links:
Love the show?

Subscribe, rate, review, and share!
Join The Healthy Brain Podcast Community today: