Podcast: Play in new window | Download | Embed
Subscribe: Apple Podcasts | Android | Google Podcasts | Spotify | RSS | More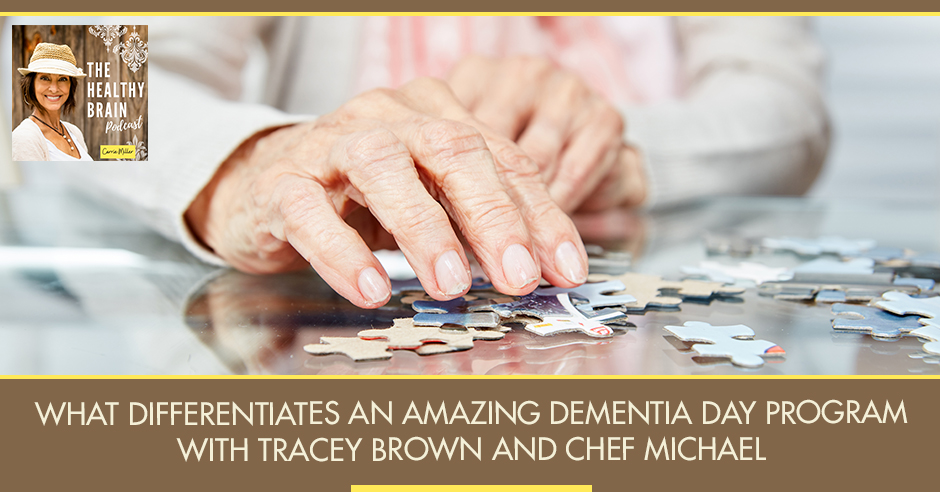 It is heartbreaking to see your loved one suffering from dementia. That is why an amazing program could really make a difference in their day to day lives. In this episode, host, Carrie Miller, takes us to a place like no other—the one and only Amazing Place. It is the only Day Program in Houston, Texas, exclusively for adults with mild to moderate forms of dementia. Here with Carrie is its Executive Director, Tracey Brown. Tracey shares with us how they are providing the best in health, family, and culinary services to their patients. She then gives some suggestions on what you can implement in your home that will help alleviate some of the stresses of the disease. Taking us deeper into the non-profit organization, Tracey also brings with her their Culinary Director, Chef Michael Lieb, to share his belief in serving nutritious brain-healthy foods to patients at Amazing Place.
—
Listen to the podcast here:
What Differentiates An Amazing Dementia Day Program With Tracey Brown And Chef Michael
We're visiting a place like no other. It is the only day program here in Houston, Texas exclusively for adults with mild to moderate forms of dementia. It's a faith-based state-licensed nonprofit organization governed by a coalition of fifteen churches throughout the city. I'm talking about the one and only Amazing Place. I have the privilege of introducing to you a very special person who has such a passion for supporting adults with dementia and their families. Her own grandmother suffered for many years with Alzheimer's disease while watching her grandfather endure tremendous stress as the primary caregiver, and eventually suffering a heart attack. She's been the Executive Director of Amazing Place for the several years. Welcome to the Healthy Brain Podcast, Tracey.
Thank you, Carrie. It's great to be here.
I'm glad to have you. We're thrilled you're here and excited for you to share with our audience your thoughts and create a vision behind Amazing Place. It's such an incredible place of refuge for not only the dementia participant but the caregiver as well. It's such a symbol of hope. Who founded the Amazing Place and what's the story behind the why?
Reverend Dean Robinson founded Amazing Place. It was first known as the Senior's Place. He founded it at St. Luke's United Methodist Church many years ago. He was the pastor of the senior adults and he saw an increasing number of seniors in their congregation facing the beginning stages of dementia and having nowhere to turn. People suffering in the later stages were going into residential facilities and had other options. Those in the early stages didn't know what to do. They tended to isolate and pull back. He felt it was important to focus on the mild to moderate stages. We have remained true to that to this day.
I understand that you provide the best in health, family and culinary services in addition to an evidence-based curriculum that is meticulously planned here. Can you share with us a little bit about the Day Program?
We started with our Day Program many years ago and there are several hallmarks. I do believe that our participant programming, which offers 30 to 40 different programs a day is exceptional. We have a very strong team of ten delivering programs to the average of 60 plus participants here every day. The focus changes as the day goes on. We tend to gravitate from more active programs like exercise, Tai Chi and Pilates to cognitive programs. We have a special program in the morning called Mind Matters for those at the highest cognitive level where they are brought into a room and challenged. They love that cognitive challenge.
There are many creative arts. We have several art classes every week and we find that people experiencing dementia will often try things they never have. There are all these hidden blessings in the journey of dementia if you look for them. One of those is some of the fear someone may have about trying art will dissipate and they will go into the studio, take a painting class and not want to leave because they love it. People talk about memory and they can't possibly do this because they can't remember. That is not true. We love for them to experiment and try new things.
We have a collaboration with the Rienzi Museum and we will take participants over there to tour the art collection. The docents will do an art class with them and they will produce a wonderful piece of art while they're there. It's being creative. Our program director came from a background at the YMCA rather than a background in dementia care. He approaches things as if you are working with a population that's not cognitively impaired. We then make adjustments for the cognitive impairment. It's very rich. The music memory is deeply embedded. Someone may not be able to sing the song, but they may remember the melody. In our Bible study, we do that daily. They often sing hymns and hymns from childhood will come back easily to this group.
My mom in her home is the same way. She hears the hymns or any music, '50s and '60s. She knows those words still even after many years of dementia. Tracey, not everybody has a place like Amazing Place in their backyard. Can you please speak to the audience who is perhaps caring for loved ones with dementia? Give them a few suggestions on what they can maybe implement in their own home and their own lives to alleviate some of the stresses of the disease.
The most important thing to implement is daily structure. Come up with what works for your family, your loved one and stick to it because people with dementia respond to a daily schedule. They will do far better if you have that structure in their lives. Chaos and disorder are not friendly to the dementia patients. I would say to the caregiver, be sure to care for yourself first. You have to take care of yourself so you can care for your loved ones. I do believe there will be an explosion of programming, classes and things coming in the next few years to help those in more rural environments or those who don't have access to places like Amazing Place.
Chaos and disorder are not friendly to dementia patients.
Click To Tweet
You were talking about the caregivers. What can they do? Where can they find retreat if they don't have an Amazing Place.
Exercise is a great release for everyone, but the statistics about caregivers are frightening. It's important for caregivers to pay attention to their health. My grandfather went through it. He was caring for my grandmother. He felt he could handle it and he ended up having a heart attack because he didn't take care of himself. Stress release is important. Exercise is important and not isolating. For both the caregiver and the dementia patient, God designed us to have human connection and that is important. Try to get together with others. If you're involved in a church, go to church, try to find the others going through the same journey.
Those are great examples of giving to the caregivers. It's hard for them. I understand that you have a Connections Program that launched in 2020. Please tell us about it and why it's so beneficial to plug into programs like you have implemented here.
What we've learned is that not everyone can access our Day Program, but we have an expertise we've developed over all these years that we wanted to share on a wider basis. Over the past several years, we have brought 10 to 11 different initiatives into our organization. We decided it was time to bundle them up and share them on a wider basis. We offer three evidence-based caregiver education classes. They are superb. The Savvy Caregiver Class is designed specifically for dementia caregivers. It provides a lot of valuable information. We teach those classes all over Houston, in churches, in senior centers and here at Amazing Place. Our Connections Program takes things like our classes, our memory training class for those without cognitive impairment. Our Faith Care Connection project takes those out into the community, broadens our reach beyond the four walls of Amazing Place and allows us to help a lot more people.
Do you have to have a loved one participating in Amazing Place where you can even plug into the services?
Absolutely not. People enter Amazing Place through different doors. They may come to the Day Program first or they may never come to the Day Program and they are looking for caregiver education opportunities. We are open. We get a lot of calls. People are seeking help in a variety of different ways. We try to direct them in the best way.
I'm sure my audience are wanting to ask what does a Daycare Program costs like this?
Our daily rate equates to about $106 per person per day. It costs us far more than that to deliver those services. As a nonprofit, we raise funds from the community to help keep our rates low. If you think about someone having a caregiver in the home and the going rate for that is $20 an hour. If they have someone in the home for five hours, they're at that same level, but they don't have the connections, the friends, the wonderful meal. All the stimulation, both physical and cognitive that they would receive. We still feel like we're offering an outstanding product at a reasonable price.
Medicaid or Medicare pay?
Nope.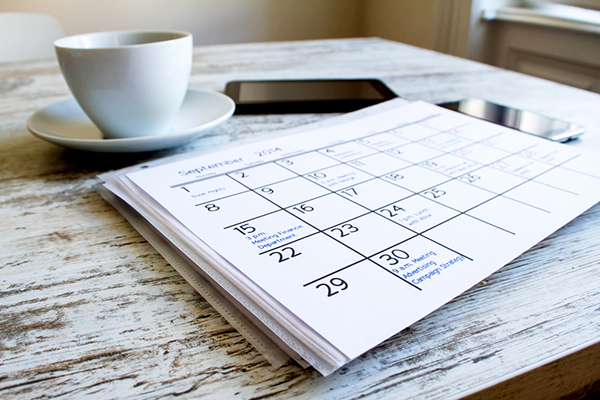 Are there any other ways to pay for the program?
We have a scholarship program. We gave away about 130,000 in scholarships to people who would not be able to pay for it. We also have a longstanding relationship with the VA, the Veterans Administration, and they send many people here and cover their costs. Long-term care insurance can cover it if you have the Adult Daycare clause. We are always looking at new ways to help families.
Do you take drop-ins?
We do not take drop-ins. We have a thorough three-step enrollment process and we are very deliberate. We want to help people and so we need to know as much as possible about their journey and their caregiver's journey to make sure we can meet their needs.
I would love to see Amazing Place to be the poster child for assisted living and memory care homes all across the US. It's my heart. You set an extraordinary example of how our loved ones are to be treated with dementia. Do you know if any of your programs or services are being implemented in the surrounding assisted living or memory care homes?
We get that question often. As a day program, we structure our daily schedule in a different way than residential facilities. We are all about the activities and programs we deliver. We're not offering any residential care. Ours tends to be much more vigorous program than you find in residential facilities. Having said that, we're designed for people, mild to moderate, who require that level of activity to stay engaged. Often when someone moves on to residential care, they may need less stimulation that might be better for them. There are a lot of great places out there doing wonderful work. They're all needed.
Have you considered expanding or opening assisted-living or memory care?
We definitely have looked at expanding. Our founder when he founded this many years ago, felt that there should be four locations in this massive city of Houston. We have begun working on our second location called Amazing Place West. We are in Idaho. We're so excited about it. Since we're a nonprofit, we're in a campaign to raise the funds to eventually build that location. We've been working on it for a while. These things take a couple of years and we can't wait to get started.
When is it to be finished?
We haven't broken ground yet. We're still raising the funds.
You have to take care of yourself so that you can care for your loved one.
Click To Tweet
Is there a place where the audience can go and give?
AmazingPlaceHouston.org is our website. We are open and thrilled with any contributions.
Would you ever consider an online presence so others can learn from you like maybe video teaching others all over the world, various resources, interactive classes or anything like that?
We have definitely thought about it. We're beginning to explore some opportunities for the future. We love our relationships with other programs around the country and in other parts of the world. There's a lot of work for all of us to do to make our services available to those not in large cities.
I understand that you have an extremely dedicated army of volunteers here at Amazing Place and it's only fitting to pay tribute to all of your volunteers and know you are grateful.
We are so grateful. Army is true and we are so thrilled. We had over 600 volunteers in 2019. They're finalizing the calculations now, but I think they gave up to the equivalent of eight full-time staff members in terms of their hours of service, which is extraordinary. We could not do what we do without our volunteers.
When they're here, what is the ratio?
It depends where they're serving and we offer opportunities to serve throughout our organization. Some serve in the kitchen with Chef Michael and others teach Bible study. We have many art teachers. We have administrative volunteers. They are throughout this building. Our Director of Volunteer Services works very hard to help volunteers find a place that feeds their soul and where they feel like they're making a real contribution.
You probably have a lot of caregivers. Do you have some of them floating in and helping out as well?
No, this is their time for respite. We want them to enjoy their time away, knowing their loved one is safe, stimulated and having a great day. We hope that they will go and take care of the things they need to do to stay healthy on top of all the things in life that they have to do.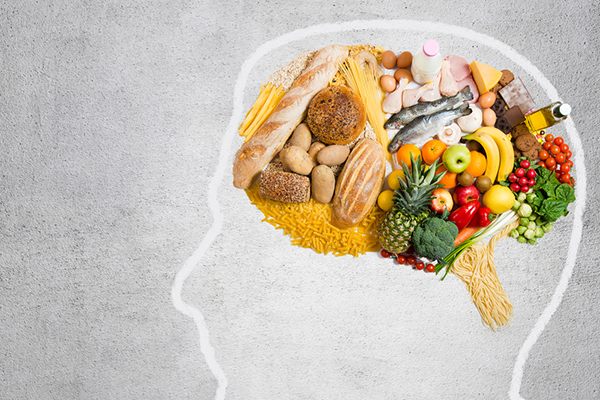 As a certified nutritionist, I'm extremely impressed with the culinary services here at Amazing Place. We thought we'd invite Chef Michael to join us here and sharing his belief in serving nutritious brain healthy foods. Welcome, Chef Michael.
Carrie, how are you?
I'm good. Thank you for joining us here on the show. I got a chance to tour Amazing Place and meet you and all the amazing people who pour their hearts and souls in the ministry. I wanted to specifically have you on the show because you've been such an instrumental part in caring for the well-being of the participants here with your nutritious foods and guidelines. Chef Michael, we're so happy that you're here with us. Can you please share with our audience one of the favorite stories about how your own life has been impacted here or perhaps how you've been blessed by a participant with dementia? How about you, Tracey?
I have to say I was here for several years working in Amazing Place. My mom was diagnosed with dementia. I had lived through my grandmother's dementia. Being in the field and experiencing it every day, when my mom was diagnosed, I realized what a gift it was for me to have been here, to have learned and gleaned so much from our incredible team. My mom moved in with us. My wonderful husband and I became hands-on caregivers. I was able to apply all of the things that I had learned here. I also developed such a deep appreciation for the hands-on role of a caregiver doing the daily work. It has inspired me to these next several years to do everything we can to educate people so that their burden is lighter and they can be the best caregiver possible. It's a rewarding place to be. I'm incredibly grateful for the opportunity to be here and to serve and then to be able to apply it in my own life.
Thank you, Tracey. That is so heartfelt and encouraging to our audience. Tracey, I have one more question for you. Many of our audience have loved ones with some form of dementia and I'm sure they're wishing and praying for a place like this in their own city. Do you have any suggestions as to where they might find a place of refuge?
It depends on where they are, but the Alzheimer's Association across the country is a great resource. The Alzheimer's Association in these different towns will list Day Programs, memory care facilities and respite programs. I consider them across the country as a great resource for respite. Don't be afraid to call on your family and friends to help if you don't have resources in your community. A 2 or 3-hour break can make a difference. Don't isolate and don't remove yourself, reach out to others. That's important.
Tracey, I'd love for you to share with us where we can find the information on Amazing Place, the website and social media.
Our website is AmazingPlaceHouston.org. We have a wonderful website filled with great information and resources. We are in the process of developing and we'll be launching a social media campaign. We're excited and gathering content. For someone with a computer and internet, there are a lot of resources out there. They may be able to find even some online support groups through Facebook to try to connect to other caregivers.
Tracey, Chef Michael, thank you so much for taking the time out of your busy schedules to visit with us. For many years, Amazing Place has been such a symbol of hope for many whose lives have been disrupted by dementia. We appreciate you both and your service to those with dementia and the caregivers. Our hearts and prayers are with your incredible organization and as you continue to make a huge positive impact in the lives of others here in this great city of Houston. Thank you for your service.
Thank you, Carrie.
Important Links:
Love the show?

Subscribe, rate, review, and share!
Join The Healthy Brain Podcast Community today: