Podcast: Play in new window | Download | Embed
Subscribe: Apple Podcasts | Android | Google Podcasts | Spotify | RSS | More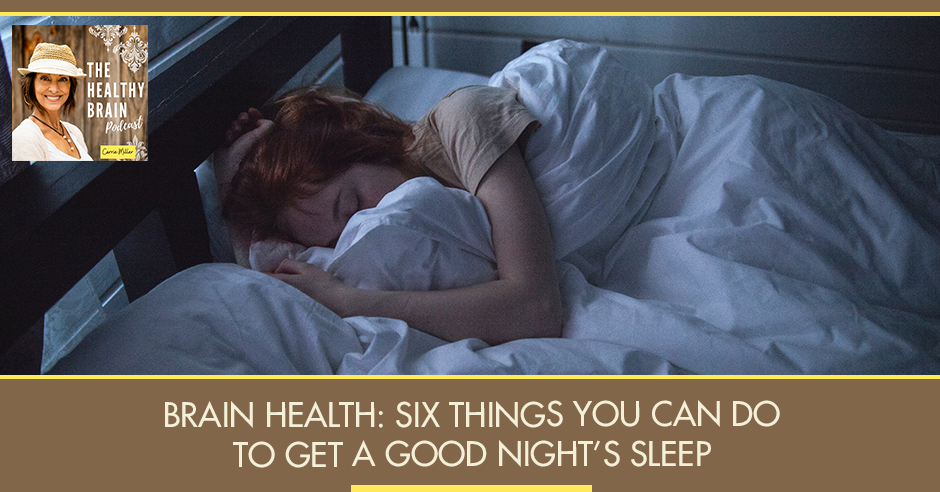 Do you have a brain that never shuts off before bed? Do you find yourself often tossing and turning trying to figure out how you can sleep because your mind just never stops with its endless lists of ideas? If so, then this episode is perfect for you. Host, Carrie Miller, continues with the series on brain health by shedding light on how important sleep is to your brain. She shares some of its great health benefits and lays down the six things that can help you achieve a good night's sleep. Dive deep into the great information that Carrie is going to share, keeping with you the fact that getting adequate sleep will revolutionize your life.
—
Listen to the podcast here:
Brain Health: Six Things You Can Do To Get A Good Night's Sleep
I am excited you're here. We're going to continue our series on what exactly is healthy for our brain. Let's throw ourselves right into our topic. That would be something that's vital to our brain health. I'm talking about your shut-eye. In other words, your sleep. Let me ask you, do you have that brain that never shuts off before bed? Maybe you're creative or an entrepreneur, you've got an endless list of ideas swirling around your head. You're trying to figure out every little detail and you're not falling asleep. Perhaps you're having to work late every night of the week, and it's hard to wind down and go to bed at a decent time. Maybe you've got a loved one or little ones you're caring for through the night and after you attend to everybody's needs, then you're finding difficulty getting back to sleep.
I hear some of you say, "My daddy always said, 'You can sleep when you're dead.'" I hear that. I tend to be a workaholic too. I might get five hours of sleep a night and that's enough for me. I don't need that anymore. When I was a single mom out running a ceramic business out of my street garage, there were many years that I would work seven days a week, sometimes 12, 14-hour days, maybe getting 4 or 5 hours of sleep a night. There were times where I pulled all-nighters because I was prepared for maybe a 3, 4 days show out of town. I had to make sure there was plenty of merchandise to sell. There's nothing worse than not being prepared for a big crowd. You know you've got to do what you've got to do.
Years later, I'm fully aware that I paid one hefty price when I worked my body to the ground and overloaded my brain. Not getting the rest I needed was detrimental to my health. Adrenals were shot and serotonin is nowhere to be found. Arianna Huffington in her book, The Sleep Revolution, states that sleep is profoundly intertwined with virtually every aspect to bring help. Prioritizing 7 to 9 hours of sleep per night is shown to improve cognitive function, decreasing your chances for brain disorders such as depression and Alzheimer's. When I first heard that, I thought it was another one of those myths out there. I didn't want to listen because I had my routine down. I'd been living with little sleep for many years, and change? Who, me? My mama then got dementia. When you've got a loved one that's losing their memory, you tend to wake up from that slumber, no pun intended. You start to think on your own and you do some research. You're pretty amazed at what you find when you read.
The studies and research have been out there for years. It's all public knowledge. I would highly recommend and encourage you to explore the facts because adequate sleep will revolutionize your life. Did you know that 40% of Americans are deficient in sleep? More than likely because you are burning the candle at both ends at work. You're maybe raising kids and helping aging parents and so much more. We're busy. When you're exhausted, do you find it hard to focus or even function for that matter? I do. Good sleep will give you more energy to get through the day and better focus so that you can make wiser decisions.
Adequate sleep will revolutionize your life.
Click To Tweet
Personally, I think it allows you to connect more deeply with others and yourself. I'm not going into all the scientific data like the typical stages of sleep, dream cycles, sleep disorders and all. Please consult your doctor if you've had problems for an extended period of time of not being able to sleep. I'm talking about a doctor that would be an unconventional doctor who recommends unconventional methods. You do not need a sleeping pill. In my interview with Dr. Holly Holmes on episode number eight, she specifically talks about the risk outweighing the benefits causing harmful side effects from a sleep aid. You'll want to check it out. She's got so much great information to share with you on that topic.
Get A Regular Schedule
Over the years, I've compiled a list of things that you can do differently to get a good night's sleep. Some of these, I do religiously and others, I do occasionally but it doesn't matter what I do. It's up to you to find what works best for you to optimize your sleep. In reality, God created us all very differently. I encourage you to make 1 or 2 of these changes for the week and see if you sleep better. If you're sick and tired of being sick and tired, then stick with me here. Here are six things that you can do differently to get a good night's sleep. My number one would be to get on a regular schedule. That means seven days of the week, morning and nighttime. I used to wake up early Monday through Friday at 5:30 to 6:00, then not sleep in on Saturdays until 8:00 or 8:30, then get up on Sundays for church around 7:00 AM, then a bad schedule, which there was not one. Going to sleep and waking up at the same time each day flat out creates a rhythm for your body.
Sleep.org says to be consistent. Pick a bedtime and a wake-up time and stick to them as much as possible. I know life has a way of getting in the way of that. I get it but try to do your best not to sleep in for hours on Saturdays and Sundays if you're having problems sleeping. That way your internal clock will get accustomed to bedtime, which in turn will help you fall asleep better at night and wake up in the morning more easily. To adjust your sleep schedule, go with small changes slowly. Maybe working in 15, 20-minute increments every couple of days, that way your body will have an easier time adjusting to that new schedule you're wanting to implement.
Stay Away From The Negative
My number two would be to stay away from anything or anybody who stimulates the mind in a negative kind of fashion, especially the news. We all know it but we watch it anyway. There's not a whole lot of positive vibe circulating in that arena. If you've been watching it 24/7 and you're not stressed, butter my butt and call me biscuit. In other words, it means that I'm a bit surprised. Try out one week of not turning on the news and find something else to replace it. Maybe like a new hobby of some sort, picking up playing the guitar like my daddy did or knitting. If you've got kids, maybe spend more time with them.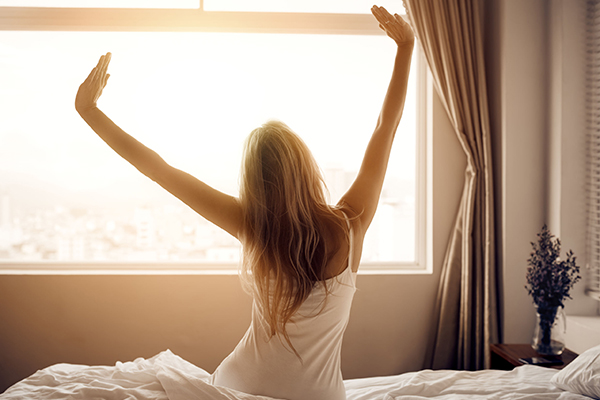 Let's face it, we are in some weird times and more than likely, your kids are feeling a little anxious these days. They could use a little tender loving care parents, especially if they're still living at home. I've got three adult kids of my own who are not scared of this virus but are looking at the ramification of this lockdown and the uncertainties of the future. Do you think there's a little stress there? Yes, you bet. I also want to mention, if you've got a loved one with dementia, then be really careful in the tone of your voice when sharing negative of any kind. Don't go there. They're quite sensitive and pick up the mood of the room and your demeanor very quickly. Stay calm, smile and maybe speak soft kind words to them as often as you can. They need you too.
Getting back to the news, it's a necessity to be informed because the last thing you want to do is look up and find that your constitutional rights have been stripped away from you. Let's choose to watch or view the news maybe midday if you feel, if you have to go there. If you're anything like me, I'm a bit on the impasse side. I can be a little affected mentally and emotionally by world news. I tend to want to save everybody from everything. Maybe you can relate to that, maybe not. What I'm saying is if you want to fall asleep quicker and sleep sounder, then reduce that late-night news or possibly that Children of the Corn film because it can be anxiety inducing, no doubt.
If you need to get your daily fix of current affairs, then you might consider reading the paper in the mornings if it's still around. Maybe read the headlines on your favorite news app. Pick out a couple to open up and read. If you're OCD on the iPhone and only you would know that, then cane it all together and go follow people like Brendon Burchard, Marie Forleo or Ed Mylett on YouTube and dive into some personal development. That's something positive. It's so much better for you anyway. It will definitely take some stress away.
Don't Eat Late At Night
Number three is not eating late at night. Anybody else out there grabbing some late-night snacks? I personally have occasional issues with this because I am a snacker. Maybe because it can be hard for us to wind down to even sit down and relax. I would suggest not even walking in the kitchen after dinner. If you've got to eat something, then grab it before maybe 7:00 PM, maybe a bag of chips, some butter popcorn or a soda. Did you think I was serious? I was just kidding there. I'm thinking more like a couple of berries, a couple slices of apple with nut butter or maybe a hot chamomile herbal tea to calm me. Other foods that might help promote better sleep are olives and maybe salmon. Those foods are high in good fat content. They contain melatonin and it doubles as a sleep aid.
Sleeping in a cold room will give you the optimal sleeping experience.
Click To Tweet
Drinking Before Bed
Number four would be drinking. I know what you're thinking. That's a hard one for a lot of people, drinking before going to bed. If you're anywhere near my age and that's 55, we'll leave it at that, us women, you ladies know what I'm talking about. It's nothing you haven't heard. We have got a pee problem. We wake up at least once or twice a night if not more and it totally disrupts our sleep. Having a good cutoff time earlier in the evening is best, maybe at 6:00 or 7:00 because you surely don't want to get in the habit of losing sleep. Let's talk a little bit about alcohol and liquor. I've been known to have a glass of wine or two in my time, but I never make it a habit because if I do, I know I'll be popping up in the middle of the night around 2:00 or 3:00 every single time. I won't be able to go back to sleep for an hour or so.
Is that you? That sugar content can affect your sleep for sure. You might be wanting to sleep like a baby through the night after drinking but if not, then quit drinking for a week and see if there's any change. I'd like to touch on coffee and soft drinks. Some people can handle coffee all day long but more than likely, it might be the cause of your lack of sleep. Try limiting your coffee to maybe 1 or 2 cups a day, nothing past 2:00 PM. When it comes to soft drinks, let's say a Coke, the sugar content is 44 grams. Enough said, getting good sleep is essential for your brain. Don't neglect it.
Put Electronics Away
My number five, we all hear it, but do we do it? That is to put those electronics away. It probably should be my number one because that's how important it is. Every single doctor and sleep specialist I've ever researched says that very same thing. The National Sleep Foundation says, "It's crucial to initiate a digital curfew for the entire family, a time where you and your kids turn off all those electronic devices for the night." Did you know that 90% of people say that they use their electronic device during the hour of turning in for bed? I had no idea it was that high.
I am not a sleep specialist and I never claimed to be, so I'm going to read an article by the National Sleep Foundation. It was entitled Why Electronics May Stimulate You Before Bed. They say, "Using electronic devices before bed can be physiologically and psychologically stimulating in ways that can adversely affect your sleep. Using TVs, tablets, smartphones, laptops or other electronic devices before bed delays your body's internal clock." That's your circadian rhythm. "It suppresses the release of the sleep-inducing hormone, melatonin, and makes it more difficult to fall asleep. This is largely due to the short wavelength of artificial blue light that's emitted by these devices. The more electronic devices that a person uses in the evening, the harder it is to fall asleep or stay asleep. Besides increasing your alertness at a time when you should be getting sleepy, which in turn delays your bedtime, using these devices before turning in delays the onset of REM sleep. It reduces the total amount of REM sleep and compromises alertness the next morning. Over time, these effects can add up to a significant chronic deficiency in sleep."
I want to encourage you all like I always do to research for yourselves. Pick up a magazine, read the articles and books pertaining to sleep and why electronics are a no go before bedtime. I used to think perhaps like you that sleep was an issue, but I never made the effort to change my habits so that I could achieve maybe 7, 8 hours of sleep. One more thing I'd like to mention is please keep the televisions out of your bedroom. Studies show that artificial bright light can disrupt brain activity and alter sleep hormones like melatonin. Your bedroom should be a quiet and peaceful place so that you can get your best sleep.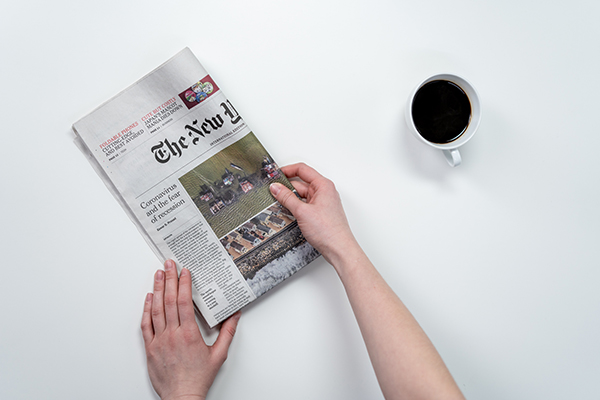 Sleep In A Dark, Calm, And Cool Room
Number six is sleep in a dark, calm, cool room. Close the blinds. Cover the windows with not only sheers but curtains as well. When brushing your teeth before going to bed, dim the lights. If you wake up in the middle of the night to pee, then keep the lights off. Maybe have a very small nightlight around the toilet area. Light increases your alertness and it will keep you up. Make sure that the temperature in your room is cool. The National Sleep Foundation recommends cooling your room somewhere around 65 degrees. Most experts say between 60 and 73 degrees. My husband, Joe, and I have been keeping ours around 69 and we as a whole have been sleeping like babies. Science says that sleeping in a cold room will give you the optimal sleeping experience for many reasons. Let's get that AC cranking. Sleeping in a cold room will definitely help you get better night sleep and help cure insomnia. This is true because the body's core temperature needs to drop in order to initiate sleep. If you're having trouble falling and staying asleep, the cold could be your saving grace.
Also, melatonin tells your body it's time to sleep. It's a hormone that promotes anti-aging. Your body produces melatonin when you're in colder temperatures. Dr. Christopher Winter, Medical Director at Charlottesville Neurology and Sleep Medicine says, "The cooler temperatures are linked to deeper sleep, whereas a hot environment increases wakefulness and decreases slow wave sleep." If you are still struggling with sleep, then please see a medical practitioner who is familiar with checking for thyroid problems, food sensitivities, menopause, chronic fatigue syndrome, fibromyalgia, heavy metal toxicity, maybe stress or depression. You might even have some sort of sleep disorder like sleep apnea. It is vital to make an appointment with a doctor, and if you've got some underlying issues, then fix them so you can feel good again. Be productive and live your calling to its fullest here on this Earth.
That wraps it up for this episode. Thank you so much for joining me to discuss sleep. It's a vital antidote for our noggins, our brain functions. It's important. We can't do without adequate sleep. Next time, we'll be talking about another key component to brain health. That is moving your body. Most of you call it exercise but you may not have the time to get to a gym or join a Zumba class. What are your choices? I've got a long list of them and I'd love to share them with you. We'll see you next time, so that you can get to feeling your best moving forward and live in a long and healthy life. If you get a chance, I'd love for you to go follow me on Instagram, @MyTexasTable for healthy recipes and brain tips. Until next time, lots of hugs. God bless you and God Bless America.
Important Links:
Love the show?
Subscribe, rate, review, and share!
Join The Healthy Brain Podcast Community today: