Podcast: Play in new window | Download | Embed
Subscribe: Apple Podcasts | Android | Google Podcasts | Spotify | RSS | More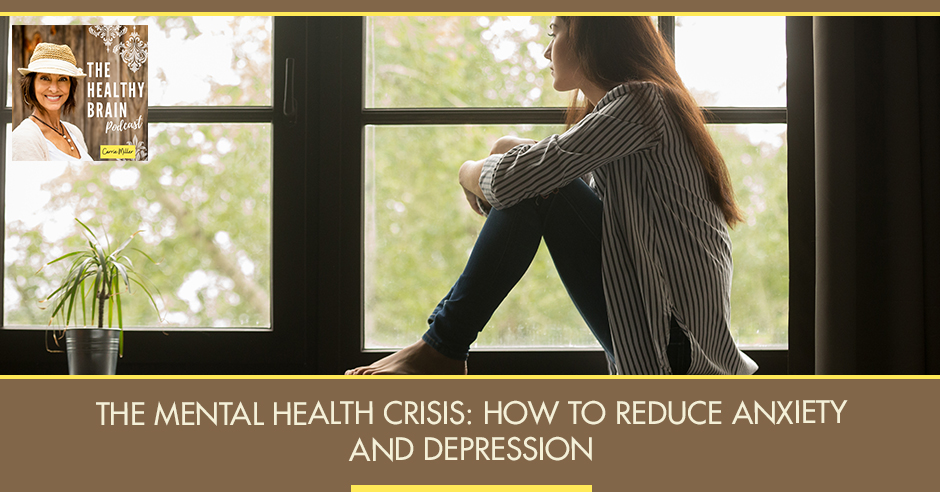 We are in the midst of so much uncertainty created by COVID-19 that nearly half of Americans report that COVID-19 is harming their mental health. A federal emergency hotline for people in emotional distress registers a more than 1000% increase in April 2020 compared to the same time last year. As sad as it sounds, this wave of mental injuries is not going away, and it is up to us individually to take control of our own mental health. In today's podcast, Carrie Miller shares some tips on how you can reduce anxiety and depression. Feeling hunkered down? Tune in to this episode and learn how you can regain control of your mind.
—
Listen to the podcast here:
The Mental Health Crisis: How To Reduce Anxiety And Depression
We are in the midst of so much uncertainty created by COVID-19 here in the US. I've got to ask, how are you feeling? If you're anything like me, you've got information overload these days, watching and hearing things you never thought would be possible in the USA. I'm not talking about the disagreements over wearing a mask or not. I'm looking at the bigger picture, all the fighting and the corrupt institutions and organizations. The unlawful acts of violence, looting and destroying of innocent people's property, homesteads and businesses that they've worked and sacrificed a lifetime for. I grew up in a small town where there was very little crime. We could play outside barefoot until mama called us home for dinner. There was no fear of abductions and there was no neighbor looking out their window to judge you whether or not you're abiding by any rules or any laws. You sure didn't get turned in for child abuse for spanking your kid. It's not a crime to spank your child. At least we knew right from wrong and we turned out fine.
My parents raised us to the best of their ability and knowledge, and they stayed out of everyone else's business. My daddy worked hard for a living and he came from Napa. Sometimes he's working three jobs to support his wife and three kids in his twenties. We lived in a 900 square-foot home. My mom and daddy didn't pamper us. They taught with tough love. I've raised my kids the same way. That's something you rarely hear about nowadays. Our family had each other. We had food on the table, loyal friends who would die for you. We had a faithful pastor, Brother Tony, who loved his congregation unconditionally. He never missed a Sunday to share God's word. I've got to have him on the show. I'd love to hear the wisdom that he would bring to the table. Life was simple and as far as we knew, life was good. We didn't have anything to compare it to. There wasn't any of that envious mindset that seeps into hearts. You might be sitting at home without a job now because millions are. Those of you who have, consider yourself beyond blessed. A paycheck is a necessity. If there isn't no money, there's no food on the table.
The Mental Health Crisis
Through this pandemic, you might have chosen to stay put in your home, hunkered down, and trolling that pantry every hour. I might know a little something about eating sugar and processed foods more than you ever have in years. Skipping the exercise or any physical activity for that matter saying, "I'll just start back up tomorrow." Maybe you're not getting ample sleep because of worry and doubt. Many of you are not leaving your homes. I've been talking about isolation and disconnection long-term. It's never good. There's been a huge surge in the number of people with anxiety, depression, and suicides. Talk about a bigger issue here. It's the biggest of them all, the mental health crisis. At this point in the game, my hope is that you are keenly aware of how devastating the after-effects of COVID have been and still continue to be.
Exercise outweighs antidepressants.
Click To Tweet
Isolation and uprooting our stable economy was never a good decision long-term. It's destroying our country because it's destroying lives. God created us to be in community with others. Socializing in person is a necessity in mental health. A healthy mind relies on being a doer of society or a productive human being who strives to do the right thing in this world. On a side note, I couldn't be prouder to be an American as I am now. We are not perfect people. We don't claim to be. Texas has got some of the boldest and hardest working people who fight for their God-given rights as an American citizen.
We are proud of our heritage wherever we come from originally and stand tall to confront evil in the state. In Texas, our Southern hospitality is exceptional. It's a part of our culture here. If you've visited, you know. All of a sudden, when the state comes to halt because of a virus, as it stands at the end of June 2020, we have a 0.000083% chance of dying from this virus. The numbers of anxiety, depression, and suicide far outweigh these COVID numbers. Federal agencies and experts warn that a historic wave of mental health problems is approaching. We're talking depression, substance abuse, post-traumatic stress disorder and suicide. Nearly half of Americans report that COVID-19 is harming their mental health. That's got to be an understatement.
A federal emergency hotline for people in emotional distress register more than 1000% increase in April compared to the same time in 2019. What's so shocking to me is, who in Washington is talking about this crisis? Not too many. Do we even have a plan? You've got to take control of your own health. If you're not in a position to do that, then I encourage you to reach out to a family member or a friend to help you. The healthcare system is failing. It's been broken for years. We've seen it. This wave of mental injuries is not going away and it will be up to us individually to be responsible to meet our own needs. Every time I turned around, I'm hearing from another person who's just returned from the doctor and they've been prescribed the pill. They were labeled as having depression and the doctor's only protocol was an antidepressant such as Zoloft.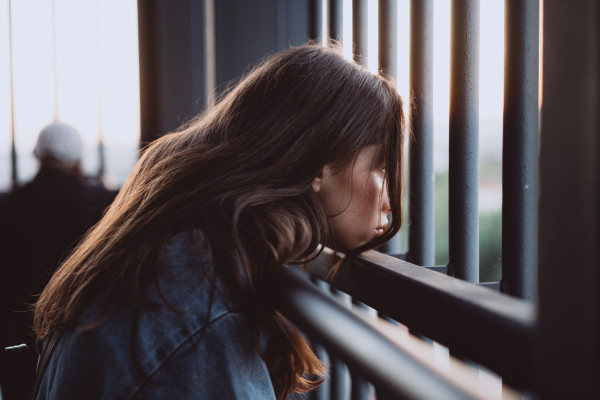 That is what they've learned at med school. That is what is prescribed. They are known to be addictive and become less effective over time. Were you informed of the side effects by chance? There are a lot of side effects and more than likely you won't hear that from a doctor. If you're not aware of it by now, let me share with you a little secret. Conventional medicine is not all it's cracked up to be. I know firsthand because of my mama who was given a diagnosis of dementia many years ago. The doctors had prescribed her a total of seventeen drugs that was administered to her daily. She was literally on her deathbed. I don't jive well with people who looked the other way while killing a family member.
I'm sure you don't either or you would neither. That language might be a little over the top for you, but I'm sorry. If you were in our shoes, you would feel the same way. If you like to know more of my mama's story, head on over to episode one. It's an amazing story and you'll not want to miss it. You're probably asking, "What are my alternatives, Carrie?" It depends on how hungry you are to regain control of your mind. Some of you are living in a world of misery loves company, but most of you want to feel better. You want more out of life. You're wanting to take that first step to get out of bed. You're wanting to kick that bad habits and move forward in life with purpose and meaning and not let the weight of the world take you down. You might be praying to the enemy, "You can't have me."
I've been there. I know all too well what depression is all about. It's like it was yesterday. It's not an easy task to pull yourself up and start again. There are two things I want to recommend. Number one, don't be shy in asking for help and number two, you've got to take one day at a time. You all know me by now. To keep my own health in check, I plug into all the holistic alternative approaches to health I can because our healthcare system is failing. That conventional way of medicine is on its way out. Hallelujah and for good reasons. I can honestly say that I researched thousands of articles in reference to health and wellness. One of my favorite go-to doctors is Dr. Amen. He's a psychiatrist who is the Founder of Amen Clinics, who starts with food first along with other lifestyle changes to reduce anxiety and depression.
Your health is everything. If you don't have it, your mind is not healthy.
Click To Tweet
Lifestyle Changes To Reduce Anxiety and Depression
Let's talk about this because all of us know someone who is depressed or someone who lives with anxiety. You might even be saying, "That's me." Here are some food for thought. Number one, turn off the news. That is a no-brainer. Nothing but fighting, yelling, blaming and pointing the finger. It's horrible. I promise you, you are weakening your immune system. If you're still fearful about catching COVID, then try limiting your intake of the boob tube. Feeding your mind with negative is a big contributor to anxiety and depression. I have been there. I understand. Let's opt out of it. Do something fun. Put something in its place. Go dance, read a positive book, and spend time moving forward in your life. Take up a new hobby, a new experience. Get out and live a little.
Number two, take up exercising and stay active. It's not just about doing your 45 minutes a day. You need to get up off your butt. Take a walk, a jog, lift some weights, work in a garden. You increase blood flow to the brain when you move so get going. Work up a sweat. Studies have shown that exercise outweighs the antidepressant Zoloft when combating depression. Exercise builds the happy pill. Walk that 45 minutes, 4 or 5 times a week, include some weight training and the stronger you are when you age, the less likely you were to get dementia. You've got to love that and exercise increases testosterone, which improves your mood, your memory, and your motivation. A coordination exercise is also very helpful for your mental health so what are you waiting on?
Number three, take in new information. Learn to cook, play an instrument, learn to juggle, which I've tried it before. I'm not really good. Pick up a new craft such as pottery. Work with your hands. It's so therapeutic. Number four, work on getting rid of inflammation in your body. Eating sugary foods that turn into sugar such as white starchy foods, that processed foods like bread and white potatoes. We all have that weakness. No new news there. We need to make a conscious decision to stop the bad eating habits. Eliminate those processed foods, artificial dyes, preservatives and sweeteners. It doesn't have to be overnight. You start with small changes. Unless you've got that mindset, it's all or nothing attitude. Your level of happiness depends on your intake of fruits and veggies. That is not a joke. Go ahead and try it for a month. I promise you, you'll see the changes in your mental health.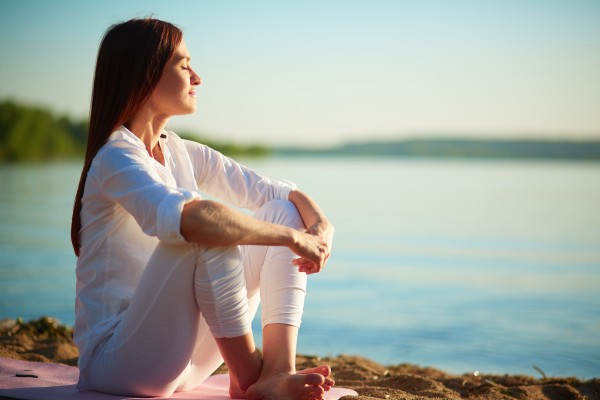 Number five, crank up those Omega-3s. Grill or bake fish 1 or 2 times a week to support Omega-3. My favorite is wild-caught Salmon. Introduce more nuts and seeds in your diet. Maybe add some chia seeds, walnuts, flaxseed to a smoothie or salad. If your intake of Omega-3 is low, you're looking at low serotonin levels. Up those Omega-3. Number seven, prevent head trauma. I know you don't want to hear this. Head trauma is one of the most common causes of depression. Protect your head. Mamas, think twice before putting your kids in sports that are prone to head trauma. I know the mamas and daddies in the US are the biggest football fans in the world, but sometimes you've just got to put that pride aside, parents. Think about the long-term effects from that contact sport. Depression is a serious matter. Don't continue to put the blinders on.
Number eight is detox all the time. Try not to put things in or on your body that will expose you to toxins. I'm talking about mold in the house, working at chemical plants. Look at the ingredients of products sitting around in your house. Even the makeup you use has harmful toxins a lot of times unless it's clean makeup. I was a ceramic artist for years, and I didn't think much about my exposure to the chemicals from the glazes because I was too busy making a living. What can we do? Detox your organs. Infrared saunas have been found to be a great treatment for depression. Drink lots of water to detox because we know our body is made up of water, 70% to 80% in your brain is water. It flushes out the toxins in your kidneys.
Eat lots of fiber for detoxing, nutrient-dense fruits and vegetables. Costco has this frozen bag of organic blueberries and they are loaded with fiber and phytonutrients. They're my favorite. Detoxify the gut with cruciferous veggies such as cabbage, broccoli, cauliflower. Help support your liver by skipping out on the alcohol. I know we hate to hear that too. While we're on the subject of food, quantity matters, 70% plant-based, 30% high-quality protein with a mix of healthy fats. Supplements, curcumin, magnesium, and zinc are excellent. SAM-e has been helpful for depression as well and saffron. This is not a recipe to follow for a couple of months or so. This has to be a lifestyle choice. Your health is everything. If you don't have it, your mind is not healthy. If you're depressed or anxiety has set in, choose to make a change. Also, a little bit of information from Dr. Amen. As your weight goes up, you're more than likely to have depression.
Fat on the belly increases inflammation. It lowers your blood flow to the brain. It depletes healthy testosterone and turns it into unhealthy promoting forms of cancer. We don't need that. Consider working with a functional nutrition doctor and test your thyroid and your vitamin deficiencies. Omega-3 levels, you've got to test. You can't guess what your levels are in your body. It is up to us when it comes to our health. We always have the choice to choose what we do. We choose what we put in our bodies and on our bodies. We make the choice. That's called freedom. I talk about it all the time. We back the science that works, not necessarily the science backed by big pharma that has literally failed us in healthcare because those have some biased. There can be some biased reporting going on there.
Let me ask you, are you an independent thinker? How about a critical thinker? If you're not, now is as good a time as ever to up your ante and get in the game. I want to encourage you to strive for mental and physical stability because the way I see it, we've got some spiritual battle happening in this world. If your mind is at its peak performance, the healthiest it can be, then you'll be able to survive in this crazy world without the anxiety and depression hanging over your head. You'll be able to think clearly, be intuitive to good versus evil and make decisions that are best for you and your family. Know that we are praying for our country and our leaders. It's time we take back this great USA. That wraps it up for this episode. Thank you for joining me. I'll see you next time so that you can continue to move forward feeling alive and well, so that you can live your best life and be purposeful in your journey ahead.
Important Links:
Episode one – Why You Seek Unconventional Medicine to Battle Dementia
Love the show?
Subscribe, rate, review, and share!
Join The Healthy Brain Podcast Community today: